Editor's note: Barbara Markoff is the owner of Artrageous! in San Diego, California, an industry leader in the field of art consultation and the healthcare art market. She has a diverse clientele and regularly works with business owners, high-level executives, architects, project managers, interior designers, and administrators to develop art programs specifically tailored to their type of business. She is also a photographer and many of her photographs have been place in healthcare facilities.

This article is an excerpt from her book Becoming A Corporate Art Consultant: The Handbook for Corporate Art Consultation, available on Amazon.com. It offers a glimpse into what it's like to work as a corporate art consultant in the healthcare industry. Markoff offers expert advice for art consultants, gallery owners, picture framers, artists selling corporate art, and anyone with a desire to learn about this important and ever-growing profession.
The First Steps
Although challenging, entering the healthcare market can provide a new revenue stream. To test the market and build up confidence, start by bidding on smaller medical and dental offices. It is a gradual process to work up to higher-budget jobs. In order to be considered for larger jobs, years of experience are essential. Understandably, decision makers at a new or remodeled hospital will not turn over an art program to an art consultant who has not demonstrated expertise and past performance.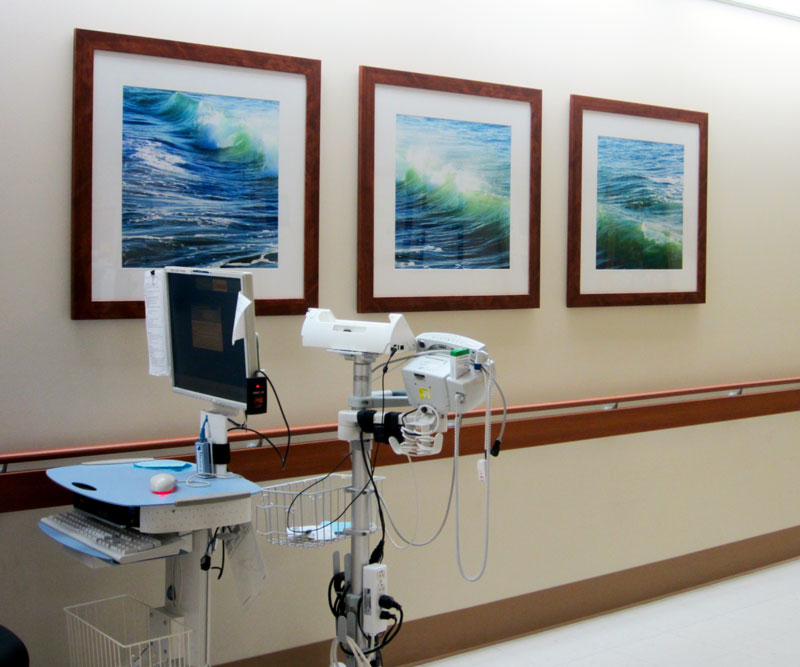 Following Protocol
It has been my experience in southern California that hospitals require art consultants and art installers to take dust maintenance classes, contractor protocol classes, and to pass a double set of TB tests. Consultants do not need badges to make a proposal, but if they are intending to participate in the art installations, badges are necessary.
Badges with photo identification are issued to art consultants and their installers once they have completed the necessary paperwork including proof of immunizations. Badges are issued annually and art consultants cannot work in a hospital without wearing a current badge. It is the responsibility of the consultant to be on top of getting badges renewed.
If consultants and their installers do not follow contractor protocol, such as dust and debris cleanup, they may be asked to leave the hospital. This can, of course, seriously impact your chances of being rehired for future projects.
Adhering to Proper Behavior
At all times, art consultants need to be sensitive to the hospital environment and notify staff about noise expectations during the installation. If it is necessary to ask a patient or visitor to move while installing in waiting rooms, the installation crew should always be polite. When installers are loading carts of artwork and equipment into elevators, they should always give medical staff and visitors the courtesy of using the elevator first. Keeping a positive attitude and demeanor while interacting with healthcare staff is imperative.
In some hospitals, art consultants and their installers are escorted to the security office before unloading the artwork. At times, art consultants and their installers may be fingerprinted. Some hospitals require a staff member to be with the installers at all times. Areas such as the Intensive Care Unit or Burn Unit may take extra time for installation due to the condition of the patients.
Understanding Procedures
Unexpected circumstances such as infectious diseases in the ICU may prohibit installers from entering rooms, which means return trips need to be scheduled. Understanding the hospital's procedures is important. Because there are protocols that must be followed, art consultants cannot schedule an installation a day or two before the art needs to be hung; it has to be planned and scheduled at least 2 – 3 weeks in advance.
With unforeseen circumstances, healthcare installations may require return trips and extra time. Keep this in mind when trying to estimate how long an installation will take.
After The Installation
When completing an installation at a healthcare facility or any corporate job, our company presents a receiving form that is signed by the project manager. The form lists the number of pieces installed, the purchase order, the address of the job site, the contact person, and the date. It is critical to have a signed delivery receipt, especially when trying to get paid for a job. In several cases when tracking overdue receivables, I have been asked to send proof that all of the artwork was received. Make a point of getting a signed delivery receipt for all finished work.
A Challenging Yet Satisfying Business
Getting on board with healthcare companies can be a time-consuming and tedious process. Pages of forms must be submitted with information about workers compensation, insurance, business documents, banking, references, etc. Contracts are lengthy. Turnaround times are sometimes unrealistic. With that being said, working in the field of healthcare can be satisfying and lucrative. It takes a very detailed, focused, and hard working individual to succeed.
You may also be interested in reading Barbara Markoff's article "Art, in Healthcare, is An Integral Part of The Design Plan".
Visit Barbara Markoff's Artrageous! Gallery website http://www.theartconsultant.biz/
************************************************************************************
ART In Healthcare For ARTISTS ~ An e-Guide

Selling your art to the Healthcare Art Market is a wonderful opportunity to expand your sales and reputation and bring healing to others.
Imagine having your art installed in wellness centers, medical facilities, hospitals, and other healthcare facilities around the world.
In this e-Guide you can find out about the many venues that seek art, if your art meets their criteria, how and where to approach art consultants in the industry, and much more in this comprehensive and fascinating e-Guide.
Find out more about ART In Healthcare For ARTISTS ~ An e-Guide by Renee Phillips.